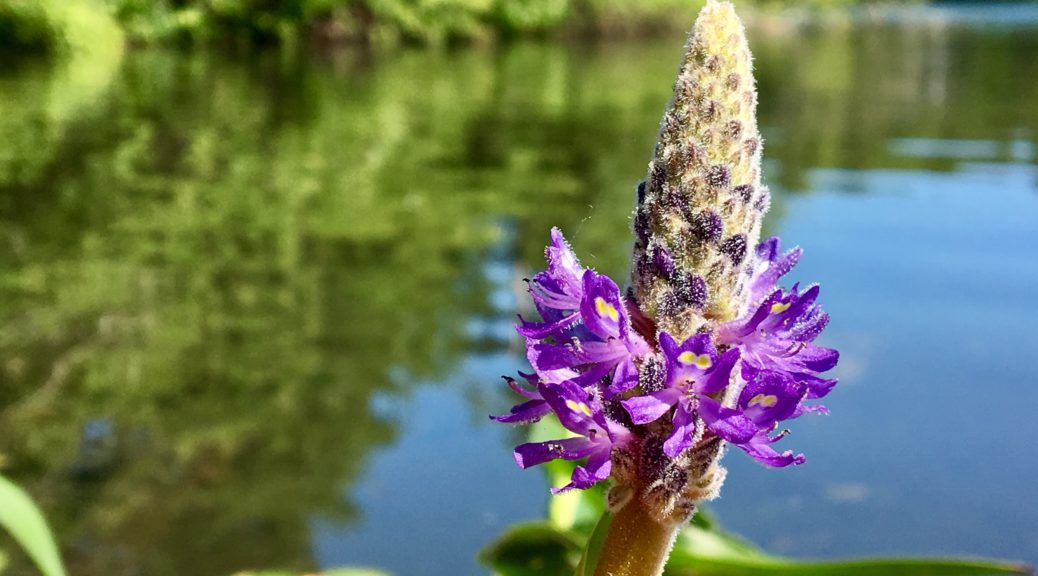 Wildflower Wednesday: Pickerelweed
Wildflower Wednesday: Pickerelweed
While kayaking yesterday in Coonamessett Pond in Falmouth, I encountered a number of patches of flowering pickerelweed (Pontederia cordata).  Pickerelweed is a common emergent plant in freshwater marshes, and along the edges of ponds, lakes and streams.  It has 4-10 inch long heart-shaped basal leaves extending above the water's surface on long stalks, and spikes of small purple flowers. Each individual flower, approximately a 1/2 inch wide when fully open, has a three-lobed upper petal with two yellow spots in the center, and three smaller more separated lower petal lobes. A large spike can produce 100 or more flowers, although they don't bloom all at the same time. The blooming period for pickerelweed stretches throughout the summer and into early fall and can last for several months within one colony of plants. However, individual flowers last only a day or two. The plant's common name suggests an association with the fish known as pickerel, likely that both are often found in similar habitat.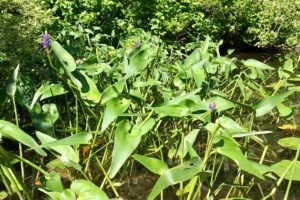 Stand of pickerelweed (note the heart-shaped leaves).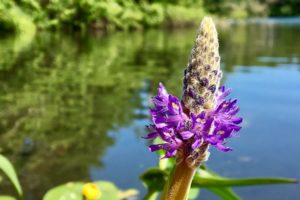 Flowering pickerelweed (note that not all the flowers bloom at one time).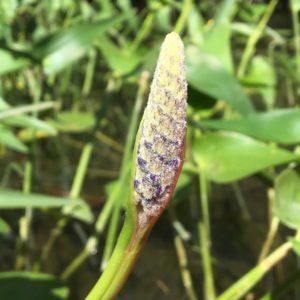 A new pickerelweed flower spike, not yet flowering.
Please follow and like us: