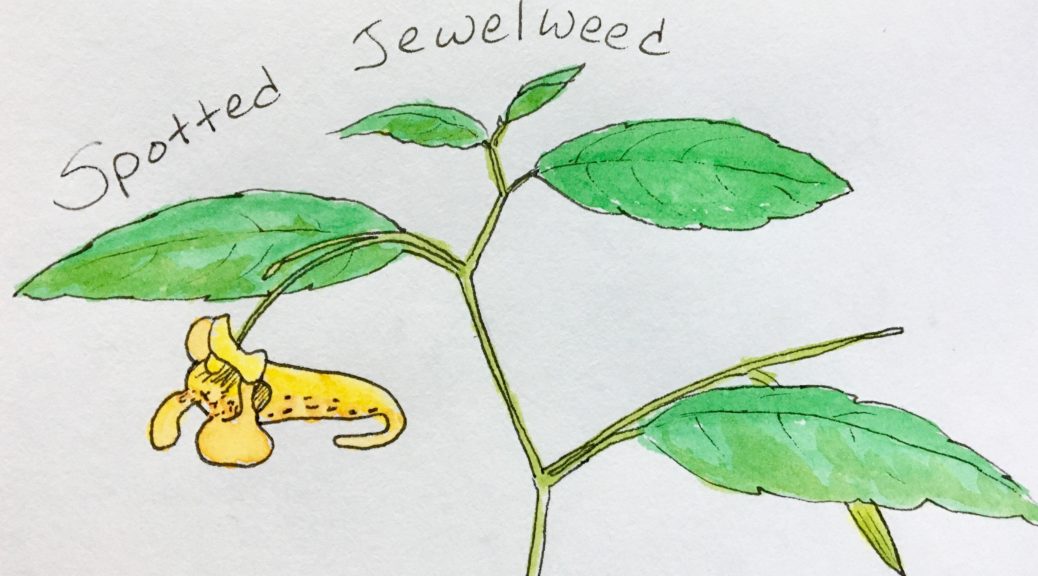 Nature Journaling: Mashpee River
Nature Journaling: Mashpee River
I spent some time on sitting along the bank of the Mashpee River today, enjoying the weather and studying some of the wildflowers growing at the river's edge. There are multiple access points and conservation areas along the Mashpee River (click here to view the Town of Mashpee's trails webpage). I accessed the river this morning through the Fitch Conservation Area, managed jointly by the Town of Mashpee and the Trustees of Reservations.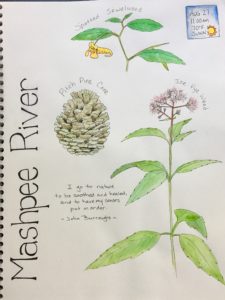 While many non-aster wildflower species are no longer blooming by late August, there were decent sized patches of both spotted jewelweed and sweet joe-pye weed in flower at the edge of the river. Spotted jewelweed (Impatiens capensis), also called spotted touch-me-not, is a common wetland annual that often grows 3 to 5 feet tall and has bright orange to yellow flowers. The flowers are uniquely shaped, with two lower wing-like lobes facing forward, and an additional lobe extended backwards and hooked into a spur. The flowers develop into pendant seed pods, which have projectile seeds that launch out of the ripe pods when they are touched. These ballistic seeds give the plant its 'touch-me-not' name.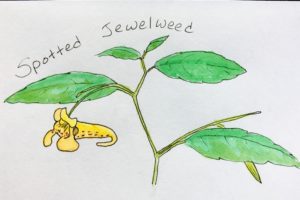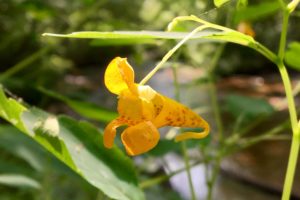 The sweet joe-pye weed (Eupatorium purpureum) along the river had toothed leaves in whorls of 3, and tiny, dull pinkish-purple flowers in terminal, compound inflorescences. Although I didn't see any butterflies while I was there, joe-pye weed flowers are typically very attractive to butterflies, as well as numerous other pollinators.  Sweet joe-pye weed can thrive in shadier places than many other joe-pye weed species, and can be found in more woodland settings, such as the Fitch Conservation Area.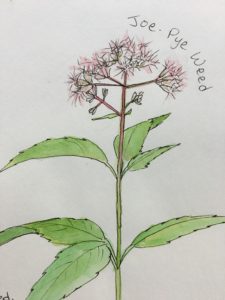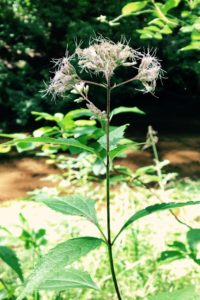 Finally, in a forest dominated by oaks and pines, cones from pitch pine (Pinus rigida) are a common sight on the forest floor. The cones are generally oval-shaped, approximately 2 to 2.5 inches long, and have prickles at the tips of each scale. These are easily distinguished from the cones of our other common pine, the white pine (Pinus strobus); white pine cones are slender, and approximately 3.5 to 6 inches long.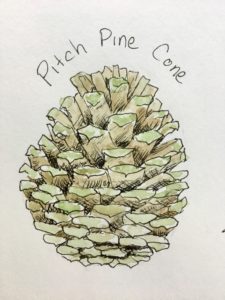 Please follow and like us: