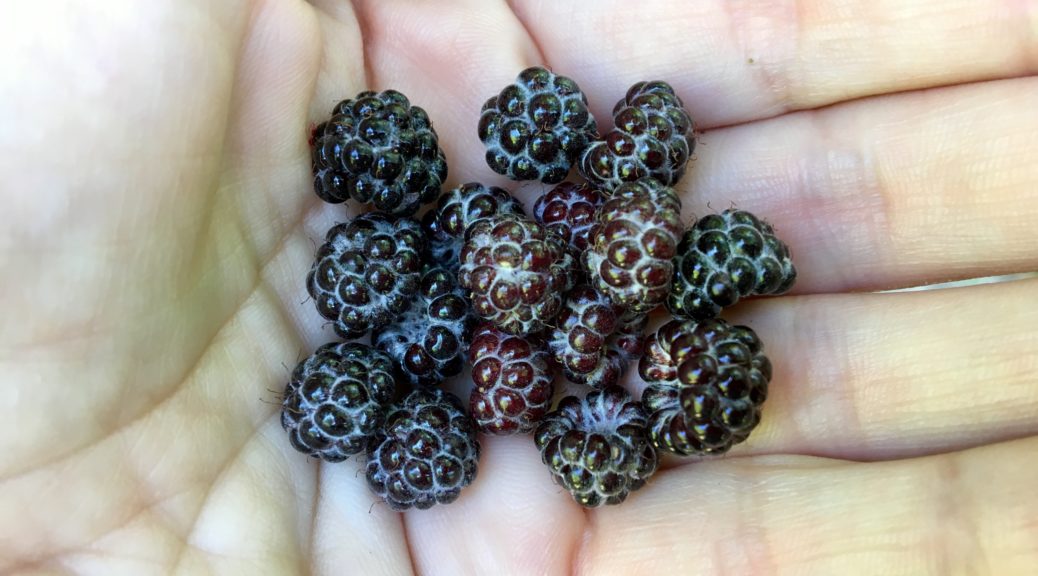 Black Raspberry (Rubus occidentalis)
Black Raspberry (Rubus occidentalis)
We are now entering my favorite time of year: berry season. While exploring the Mineral Hills Conservation Area in Northampton, MA this weekend, I noticed ripe black raspberries (Rubus occidentalis) for the first time this year.  While I enjoy red raspberries and blackberries as well, black raspberries are undoubtedly my favorite.  So this was quite the treat for me. Wild raspberries are generally smaller and sweeter than the cultivated varieties.  Mature, ripe raspberries will readily separate from their white-coned hulls, leaving a fruit with one hollow end. If you have to fight with the raspberry to separate it from the plant, it's probably not ripe yet. Some caution is advised when picking: wild raspberries have round stems covered with prickly spines.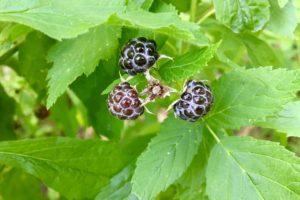 Ripe black raspberries and one white-coned hull (center) from where I had already picked a berry.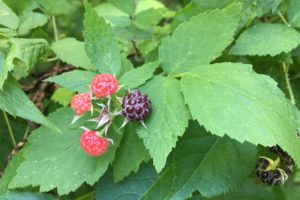 Not all berries from the same plant will ripen at the same time – these red berries are not mature yet.
Given how delicious these fruits are, it's unsurprisingly that I'm not the only one fond of raspberries.  Bradford Angier's Field Guide to Edible Wild Plants mentions that the raspberry-blackberry genus (Rubus) combines to be "the most valuable wild fruit on this continent both in terms of money and of importance as summer wildlife food," and depending on whether you take the side of lumpers or splitters there are between 50 to 400 species in the United States alone.  Wildlife, ranging from birds to chipmunks to bears, consume a great deal of these fruits during the summer.  I once encountered a black bear lying in the middle of a trail on its back, casually pulling blackberry stems down to its mouth to consume the bountiful fruit.  I was about a 100 feet away, but the creature was so intent on eating the berries that he didn't even acknowledge my presence.  It was an amazing sight, which I briefly took in, and then respectfully turned back down the trail the way I had come to give the bear his space.
Although you're unlikely to encounter a black bear on Cape Cod, you will notice a variety of Rubus species starting to ripen around here (the red raspberries at the edge of my yard are almost ready). Have you found any ripe berries yet?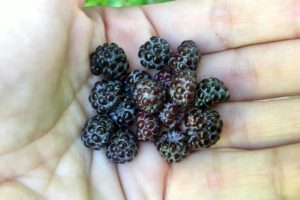 A handful of delicious black raspberries.
Reader note: I will be embarking on a 10-day hike starting tomorrow, covering the portion of the Appalachian Trail from Vermont to Connecticut. This will be my last post until at least July 24, but I hope to come back with some interesting tidbits from the trail to share with you.
Please follow and like us: